Birmingham Community Matters (BCM) recently worked with Birmingham City University (BCU) to give work experience opportunities to four final-year students. This was through BCU's Social Innovation Impact Programme. Over the eight weeks of the students' 'micro placements', we tasked them with looking at ways to analyse and present our impact data. We also asked them to design useful feedback forms for capturing the impact we have on small/micro groups we work with.
We found the students' insights and approach very refreshing. They took time to understand our charity and the context we are operating in. They also worked well collaboratively and used their time efficiently to achieve their brief.
And we're delighted to hear that the BCU students found the placements useful too.
"A fulfilling experience"
Deepinder Bilkhu studied Psychology at BCU. She is interested in supporting individuals through counselling and has experience of being a volunteer student mentor at a secondary school. There, she worked with students to explore their academic, behavioural and emotional challenges. It is this kind of work that Deepinder would like to do: supporting young people with their mental health to ensure it does not negatively impact on their futures.
Deepinder said: "Partaking in the project with BCM was a fulfilling experience. I'm excited about what the future holds with the skills I have developed with this placement – specifically working in a small team and using effective communication to complete the project tasks".
"An amazing opportunity to put into practice my skills"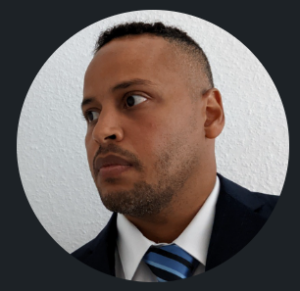 Eddie Monteiro has just graduated with a Business degree from BCU. As well as supporting BCM with our impact task, Eddie has performed data analysis work for Conference Aston. This is a 163-bedroom hotel within Aston Business School. Eddie plans to pursue a career in financial services – specifically performing data analysis to aid in the decision-making processes of corporations, from medium to large.
Eddie said: "Working at BCM has been an excellent opportunity to gain experience whilst having the sense of contributing towards improving communities around Birmingham.  This placement as a data analyst allowed me to use some of the skills I gained during my degree that I hadn't practised in a professional setting.
"For instance: the deep dive into raw data, then cleaning and manipulating the data given by BCM to then elaborate a dashboard was an amazing opportunity to explore and put into practice my skills. It enhanced my curiosity and motivation to pursue a career in data analysis.
"Working collaboratively within a team taught me so many lessons that I can use in the future.
"Overall, working for BCM was an amazing opportunity to gain professional experience whilst having a positive social impact on our local communities.
"Finally, I must mention Jo and AD at BCM. Their support and readiness to help allowed this placement to be a success for all Birmingham City University students. Without their guidance I don't think we would have been able to produce the results that we did in the timeframe we had."
"Insights into effective strategies­ and the power of collaboration"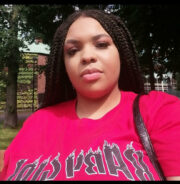 Cynthia Ehapa has also completed a Business degree at BCU. With regards to future employment, Cynthia is interested in management consulting: helping organisations to improve their practices and performance.
Cynthia said: "I found the experience very beneficial because it provides real-world experience and has allowed me to apply knowledge from my Business degree into projects that I was working on.
"Also working with BCM has been really rewarding as it allows me to make a positive impact while gaining insights into effective strategies and the power of collaboration in achieving social impact.
"It was a valuable learning experience overall."
"Improved my teamwork skills in a professional setting"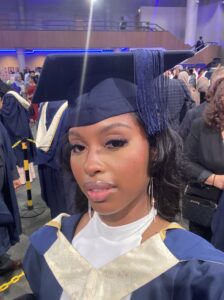 Amina Reece is a recent graduate in Finance & Investment at BCU. After receiving a scholarship from her university, she will soon be starting a Master's degree in Artificial Intelligence. Amina is particularly interested in personal finance and financial technology. This is the industry in which she hopes to forge a career.
"It was a privilege to be a part of the BCM micro placement, allowing me to improve my teamwork skills in a professional setting," said Amina. "It also allowed me to use the knowledge I had learnt from my degree in a practical way. I believe this experience has really equipped me to progress further in my career."
BCU student placements: a great opportunity for other small charities
Jo Burrill is our CEO here at BCM. She said: "Many of the BCU students that we met were motivated to work within values-led organisations, but the routes into working and understanding this sector are sometimes unclear.
"I would wholeheartedly recommend BCU student placements as an opportunity for other small charities".
For information for small charities about BCU student placements, contact Shanna Hardy – Employability and Work Based Learning Consultant at BCU – via shanna.hardy@bcu.ac.uk.