We tend to send just one Birmingham Community Matters newsletter towards the start of each month (with the occasional bulletin in between), and aim to make it as useful as possible. You can sign up to our mailing list using the form below.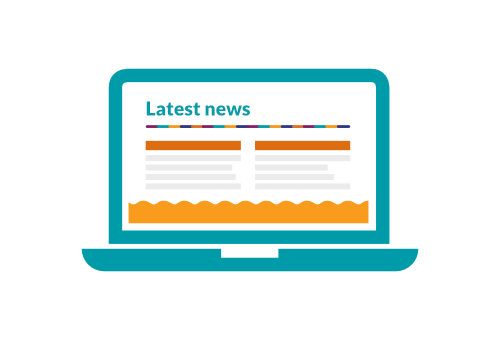 Subscribe to our newsletter
We aim to make it super useful!
You can of course opt out at any time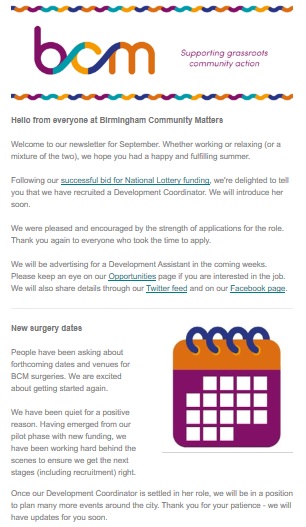 December 2020: Winter wishes: December e-newsletter from BCM
Highlights: Opportunities to work with BCM, free training from Fircroft College and Coventry University, and a Community Leadership Academy opportunity from the Stephen Lawrence Charitable Trust. 
November 2020: Your November e-newsletter from BCM
Highlights: Bite-sized sessions for people starting community/voluntary groups, Trustees' Week, and Community Integration Awards. 
October 2020: A positivity-filled October e-newsletter from BCM
Highlights: BCM website callout, Covid-19 community champions and freelance and consultancy opportunities.
September 2020: September news and events
Highlights: Themed small-group meetings, Community Initiatives Fund from the West Midlands Police & Crime Commissioner, and a return for 'in person' events.
August 2020: August news and events
Highlights: Finding funding, thank you to volunteers, and restarting and re-opening. 
July 2020: How to boost your funding applications
Highlights: Funding application feedback with Get Grants, resources for a return to 'normal' and grants from Hodge Hill Neighbourhood Network Scheme. 
June 2020: Green spaces, healthy streets, love and solidarity
Highlights: #BlackLivesMatter, Volunteers' Week and Pride Month.
May 2020: May news: ideas and resources for strange times
Highlights: webinars for Birmingham community groups, #FeedBirmingham and volunteering opportunities from Code Your Future.
April 2020: April news: launching our online surgeries
Highlights: how you can book a surgery, support with online conversations, and the Heart of England Coronavirus Resilience Fund.
To our friend (an email about the coronavirus outbreak)
March 2020: March news and events from BCM 
Here are the Selly Oak Neighbourhood Network Scheme small community grants documents: 
* Selly Oak Neighbourhood Network Scheme small community grants programme overview
* Selly Oak NNS Small Grants Proposal Form
* COGA Conditions
And here is the PDF version of the International Women's Day community events listings, compiled by Near Neighbours: IWD 2020 Community Programme
February 2020: February news and events from BCM 
Highlights: New surgery dates across the city, Bike Buddies, and a charity trustee welcome pack.  
January 2020: January news from BCM
Highlights: New surgery and Community Matters Café for February, volunteering opportunities, and how to become a BCM trustee